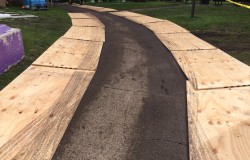 Posted on June 14, 2016 by Mike Hanley in General.

 At virtually every outdoor festival or special event, you will be able to spot some plywood.  And while it's simple to use, there are ways to make sure you're getting the most out of the easiest ways to have ground protection.Below is a cross-section of plywood with a particleboard core (courtesy of Fine Lumber, click […]

Continue Reading... No Comments.