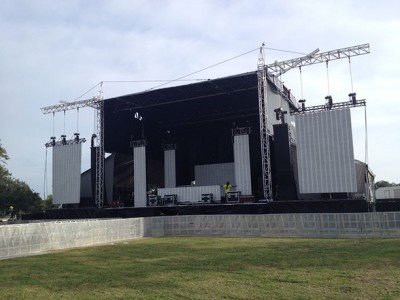 SAM 555 Mobile Stage, Courtesy of PGP
Staging for events and festivals can come in several different forms, but the vast majority will use either (click on the links below to jump to each section):
Staging can be used for more than just performers, speakers, or other forms of entertainment; sometimes there will be a need to have a level floor in order to do kitchen prep, catering, or other work that can't be done without a level, clear ground. There are a few options specifically designed for this sort of need.
Most stages will also require a roof – be it for shade, to hang lighting, sound, or video, and/or for signage. There are various roofing options but the main thing to consider is how safe the roof needs to be given the environment it will be in; most roofs will need to be inspected by local authorities and/or signed off by a third party engineering firm before your event or festival can use them. Some stage and roof systems will come with their engineering drawings already approved, but an inspection will still be mandatory to ensure they were constructed properly onsite.
Some stages may also need risers, be it a drum riser, a choir riser, or for other needs. Drum risers, for example, are usually 8′ wide x 8′ deep x 1′ or 2′ tall. For festival sets with multiple bands, it's often necessary to have these risers on casters so they can roll easily. This helps ensure a quick and efficient set change.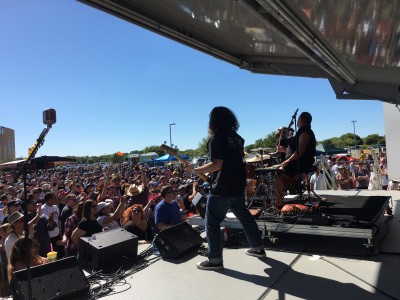 Cowboy Mouth utilizes an 8×8 rolling riser not in the usual upstage position but downstage close to the crowd.
Aside from the main performance area of the stage, it's often necessary to have stage wings added on to support the needs of the artist(s) and the production companies handling the audio, lighting, and video. In most setups, the stage left wing will be for monitor world, and the stage right wing is for either a guitar world, dimmer beach, or video world. For festivals that have multiple bands playing, the wing space is essential to stage the bands' gear so quick set changes can be achieved. Some events will allow VIPs to access part of the stage, and it's always a good idea to barricade off that section and ensure they have a separate entry and exit.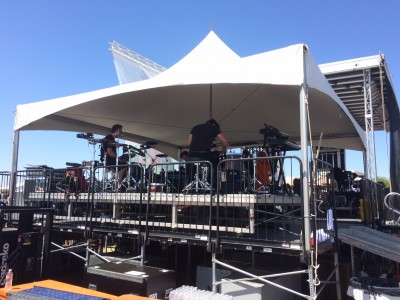 A stage left wing with monitor world and drum risers for various bands playing that day, ready to be moved to the stage. Note the truck ramp that allows road cases to be rolled up and down easily.
Another option to consider is building a
loading dock
behind or to the side of the stage, for easy access by vehicles to drop off and pick up gear. Larger stages will need to ensure their loading docks can handle one or multiple 53′ semi trailers if the artist and/or production companies are bringing their gear in semis.
Related to staging or flooring needs is
ground protection
. Some site builds will require having proper ground protection so that heavy machinery can properly drive on the grounds without damaging it.
Below are breakdowns for each kind: