Every great festival also features a kid's area; some festivals are even known for the strength of theirs (such as
Kidsapalooza
in Chicago,
Flagstaff Hullabaloo
in Arizona, and
Austin Kiddie Limits
in Texas). And it's not just rides and games – many kid's areas feature hands-on learning, up and coming young bands, and other unique interactive elements to keep the little ones entertained.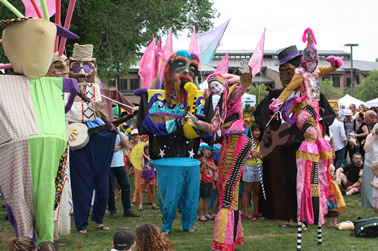 If you wish to make your festival family-friendly, the following is a general guide for what you should consider including:
Type of activities that work best with kids

Interactive elements

Temporary Tattoos
Hairdos
T-shirt printing
Parades
Hip Hop Recordings
Art walls / murals

Giveaways – healthy food, drinks, toys, apparel
Rides

Bouncy Houses
Carnival-style Rides

Storytime with well-known artists doing the reading
Kid Competitions

Egg toss
Fun runs / walks
Costume Contest
Karaoke

Having a good variety of options from toddlers to teens
Booking the right kind of talent / what keeps their attention

School of Rock
Bands with props for younger kids
Bands fronted by teens
DJs that cater to children
Puppets / kid's theater

Have special areas with:

Family restrooms
Breastfeeding –friendly zones (if required)
Diaper changing stations
Shaded areas
Misting / Cool down zones
Kiddie pools / splash pads

Questions to consider:

What sort of budget should be considered?
How much overt sponsorship is acceptable?
What age should kids be free?
What are the best hours of operation given the rest of the festival's hours?
How do you deal with potential hazards / injuries / liability?
What sort of marketing should there be?