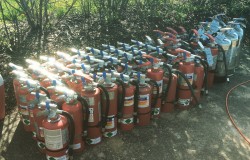 Posted on February 24, 2016 by Mike Hanley in General.

Having the proper type, size, and amount of fire extinguishers at your event or festival is of the utmost importance for maintaining proper fire safety.  This article will discuss the types of fire extinguishers you'll need given what sort of materials you have at your event, as well as how many you should have, and […]

Continue Reading... No Comments.